Corporate Identity. This could get interesting!
Look beyond the sign over the front door and you will see your corporate identity extends into each corner of business.
This is a great place to get the ideas started. What's important to remember is that we work with you to create the visual marketing strategy. Release these ideas in stages or all at one time. Either way, we help companies like yours to keep these ideas moving in the right direction.
People walking by your booth without stopping? Launching a new product? You have 3 seconds to make an impression at a trade show. How will you do it?
What do you need? Ultra-portable, Easy to setup, Electronic screens, Custom design or Rental…
Let's talk and boost your results.
Transform your vehicle!
Tap into the advertising potential with 3M premium graphics that are colourful, consistent, flexible and durable – and guaranteed to stay that way!
Study after study rank fleet graphics as the most cost-effective and influential advertising media available. Consider the results of 3M's study for cost per thousand brand impressions:
Why is everyone doing it these days? Because it works.
And it's cost effective.
The finishing touches in your reception area will make a lasting impression with customers.
Brushed aluminum and stainless steel lettering? Or what about bring different design elements together, add a wall mural and LED lighting. Showcase your history of innovation or your future vision.
Now you're getting the idea.
BANNERS, MURALS &
FLOOR GRAPHICS
Office Murals
Make a statement about your business using the walls of your office! Long-lasting wall coverings grab attention and tell a story about your business.
Banners
Make your message visable from a distance with a large format printed banner that has impact in just a few seconds
Floor Graphics
Floor space can be used to promote your business or features of your business. Use them to showcase your current feature product or to direct foot traffic to a specific display or location.
Guiding people easily and efficiently within a building, complex or city is what an effective wayfinding system must do. It is more important than just signage; it is a language that all people need to understand to be beneficial.
So, incorporating a proper wayfinding system within your commercial design is a worthy investment!
We offer complete, professional service, working with you to produce long-term solutions for your project. Online project management, emerging technology and expertise in sign requirements for the disabled – we make the process efficient and easy.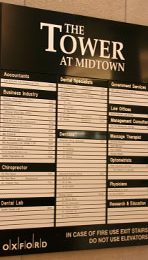 Even if you don't know exactly what you need, we can help.
The most successful businesses invest in Signs to Power Business.